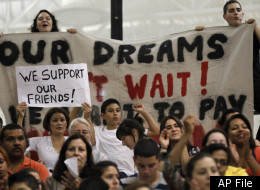 The right to an education, as declared in the UN Universal Declaration of Human Rights states that, "professional education shall be made generally available and higher education shall be equally accessible to all on the basis of merit."  
Equal access to all precludes all groups that you, or your consitutants, feel do not deserve human rights.  I cannot agree with Rep. Chris Holbert, as he was quoted in the Durango Hearald saying he sympathized with students who effectively are without a country, but his constituents demand that the federal government secure the border with Mexico first.
"I can't support this bill. The people I represent just simply would not accept that," Holbert said."
I am shocked that this piece of legislation, that would have cost Colorado residence, and US citizens nothing, and would benefit each and everyone of us greatly was unable to pass.
President James Earl Carter was famously quoted saying, "The measure of a society is found in how they treat their weakest and most helpless citizens." 
Before shrinking in terror at my eluding to persons living in the United States without permission, as citizens, remember that they are a very real part of our society.  Even if the class they are subjugated to is very low.  They use many of our public services, such as K-12 education, and our public infrastructure too, like roads, and they fill jobs that many of us would rather not.  Some industries, such as industrialized farming, have found these 'illegals' to be indispensable to their business model.  
Hiding behind politics and fear to prevent access to education, is refusing to allow equal human rights.  Please contact your Colorado representatives and Senators and let them know how you feel about human rights.